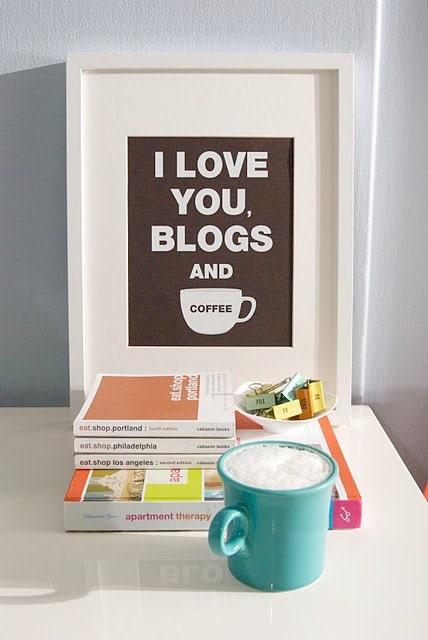 1. Getting started- I signed up to
Blogger
when I started my blog because most of the blogs I was reading were a 'blogspot' blog. I found it really easy to set up and add all the 'gadgets' down the side of my blog and can't think of any times where I've had a major problem with it i.e: publishing issues or layout issues. Other popular blog platforms are
Wordpress
and
Typepad
. Check out
Little Minx
to see a wordpress blog and
Tiny Happy
to see a Typepad blog. Think about a name for your blog and check that it is available on your chosen blogging platform as well as on Facebook/twitter/gmail account etc (I changed my name after a few months which wasn't ideal!)
2. Think about why you want to start a blog- are you someone who has lots of cool ideas (could be craft, cooking, eco living, 'fun with pre-schoolers' ideas etc) or sees lots of cool things online you want to share? Maybe you want to use your blog to connect with other like minded people (blogging is GREAT for this!) Is it the beginning of a new path for you (e.g: maybe you are wanting to switch to a creative career or study like starting art school so you're starting an art blog to refine your style and share inspiration) or will your blog be a place to share things you sell or are planning to sell (
Felt.co.nz
or
Etsy.com
are two websites where you can sell your homemade creations but it's always good to have a blog for people to find out about you and your products.
3. Join in the blogging community by...
-reading, following and commenting on blogs you love
-if you're a kiwi mum join in with
Kiwi Mummy Blogs
-linking to favourite blogs or specific blog posts in your own blog posts eg: if you make something inspired by someone else's blog post always link back to the original blog post. (If you make something inspired by a pin on pinterest it's nice to make the effort to find where the pin came from and link back to that blog post rather than the pin- just a bit of pin/blogging etiquette ;)
-join in swaps- I love blog swaps and have joined in quite a few over the years. My favourite is the
Kiwi Christmas Ornament Swap
hosted by
'Sew Funky'
each year. Some swaps are just one off's so keep your eyes out for swaps on the blogs you read - there's usually a button (a bloggy name for a picture down the side of a blog) linking to the swap.
-Join in 'Linky's or 'Meme's'- these are another bloggy word for themed blog posts with space underneath for other bloggers to add a link to their blog and are a great way to get people to find your blog and find other blogs too. Over the years I have joined in with these linky's...
My Creative Space-
share your creations on a Thursday over at
Village Voices in Kidspot
-here is
the latest one
for you to check out. To join in you just copy and paste the URL of your blog post to the linky list. This is really popular and a fab way to find other blogs and share your own crafty projects.
Wardrobe Wednesday-
a fun way to share what you're wearing on a Wednesday originally started by
Clare of Greenvalley Crafts-
it's a fun way to make a bit of an effort with your outfit that day- lots more info on
Miriam's blog here
if you'd like to read more or join up
Flea Market Finds-
Loads of bloggers love sharing their latest flea market/ op shop/ vintage finds on Sophie's blog each week -
check it out here
4. Get connected with Social Media
-get a Facebook page for your blog- this is such a great way to link to your blog posts especially for people that read your blog but aren't bloggers themselves. Check out
my mousehouse facebook page here
for the sorts of things I share on my page.
-join Twitter (I've joined but don't actually use it much at all but others love it for the connections and the chat!)
5. Other tips/hints
-host a giveaway- after a few months of blogging you may want to host a giveaway- this is a great way to attract readers to your blog (it is also a lot of fun gathering up what you want to giveaway!) Joining in with the twice yearly
Sew Mama Sew giveaway
always brings lots of readers to your blog and is a great way to find new blogs as well!
-take great photo's- I am obsessive with my photo's and take heaps before getting the right one! And even though it's hard when you have kids to take good photo's in the daytime I'd recommend trying to over night time photo's as the light and the flash is not that flattering to your lovely creations!
-write a tutorial for a crafty project you have come up with- these are always popular-
you can check out some of mine here
-I'm not going to say anything about exactly how to write a blog, how much to share and what to share as it's each to their own really- some people share a lot about their family life and photo's of their children, others share only crafty projects, some share only things they have found on the net or on pinterest so it's just up to you to decide how and what you want to share!
-make up a great header for your blog- the picture/title at the top- you could just take a photo, use text or use
picmonkey
to create one
-remember don't be put off by all the blogs out there- everyone has something different/unique to share and it's all about connecting with others as much as becoming a popular blog. I like this quote for inspiration...

If you have any more ideas regarding linky's to join in with, blogging tips and hints, other social media to use or anything else would love to hear of them!

Megan x